Estimated reading time: 5 minutes
Did you know that about one in 20 insured homes has a claim each year, according to the Insurance Information Institute? Wind, hail, water damage, freezing, fire and lightning, and theft are some of the most common culprits.
Homeowners Losses Ranked By Claims Frequency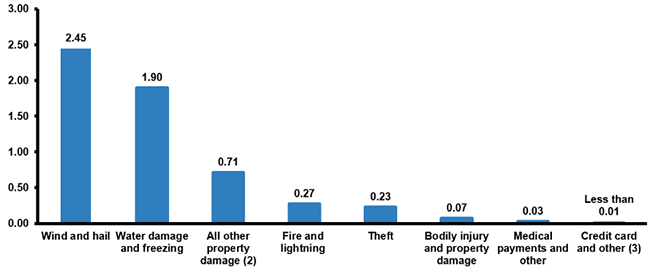 If you're like most people, your home is your greatest asset. So, it's crucial to avoid being underinsured. To ensure your homeowners insurance policy adequately protects you against losses, learn about the 14 things to review with your insurance agent.
1. Understand the difference between reconstruction cost and replacement cost
Your home's reconstruction cost and its market value can vary significantly, especially if your home is older. Reconstruction cost is what it would cost to replace your house by rebuilding it completely at current prices. Market value is what someone is willing to pay for your home including the lot. The limit of insurance carried on your home should be based on its reconstruction cost.
2. Review your policy limits on an annual basis
It's estimated that 64% of homes are underinsured, most by an average of 27%. Being underinsured means you have a policy that only covers a portion of your losses in a claim, often because of exclusions or coverage limits. Many times, underinsured homeowners think they have adequate coverage, only to find out that they don't when it's too late.
3. Make sure your possessions are covered
Ensure that your personal property (furniture, electronics, clothing, etc.) is covered on a replacement instead of actual cash value basis. Consider personal property protection to help ensure that all the things that make your house a home are protected from the unexpected.
4. Increase your insurance coverage as you improve your home
It's estimated that Americans spend more than $200 billion on home improvements each year. To avoid underinsurance, make sure your home insurer knows about that kitchen or bathroom remodel or the new deck you just added.
5. Take inventory of your belongings
A digital inventory of your home will be your very best friend at claim time, and it will make your insurance adjuster happy, too. There are many resources available online (such as this one) to create a home inventory.
6. Consider flood insurance
Flood damage is not covered by your home insurance policy. Flood insurance is typically provided by the federal government's National Flood Insurance Program (NFIP) through insurance agents who sell the policies on its behalf. Every homeowner should consider purchasing flood insurance.
7. Insure your "other structures"
"Other structures" coverage helps pay to repair or replace structures other than your home if they are damaged by a covered risk. Items on your property that typically fall under "other structures" coverage include a fence, detached garage, in-ground swimming pool, and gazebo.
8. Install a home security system
A home security system doesn't have to cost a fortune. According to HomeAdvisor, the average system costs just under $700. Once you install your home security system, make sure to inform your insurer — many systems qualify for a homeowners insurance rate credit.
9. Know your deductible
A deductible is an amount of money that you yourself are responsible for paying toward an insured loss. When a disaster strikes your home, the amount of the deductible is subtracted from your claim payment. Make sure you understand whether or not your deductible varies based on the type of damage. For example, your policy may have a $500 deductible for most losses, but a much higher deductible for wind damage.
10. Insure motorized vehicles separately
Coverage for motorized vehicles is probably limited in your home insurance policy. Vehicles like a riding mower, go-cart, golf cart, and personal watercrafts should be insured under your auto insurance policy.
11. Check your limits of liability
Statistically, most home insurance claims are for property damage, but a liability claim can quickly ruin your family's financial future. For example, a liability claim could result if a person is injured in your home. A basic liability limit (such as $300,000) is often easily increased to $1 million or more for little money.
12. Review your personal umbrella insurance policy
If you have a personal umbrella insurance policy, make sure it will kick in if your home insurance policy is wiped out by a liability claim or won't pay enough due to limited coverage.
13. Understand the coverage for your home-based business
Run a business out of your home? Are you one of the millions of Americans who are self-employed? Are you unsure if your business activities are covered by an insurance policy? Speak with your insurance agent to identify limitations in your home insurance policy for business-related claims.
14. Inform your insurer if you're renting out your home
Companies like Airbnb have caused an explosion in home rentals. Listing yours might net you a good income, but payment for claims that occur during the rental may be limited by your insurer.
---
Bad things can happen, but by reviewing your home insurance policy on a frequent basis — and understanding its coverages and limits — you can help ensure that you'll be ready. Looking to explore your homeowners insurance options? The experienced team at Garden State Central Insurance Services will review your current homeowners policy with you and provide a no-obligation quote. Get in touch with us today!