Estimated reading time: 5 minutes
As a small business owner, you may be wondering—does my business need workers' compensation insurance? Your state's department of insurance sets the rules for which employers need workers' compensation and which do not. In some states, hiring just one employee, even a part-time worker, means you must purchase a workers' compensation policy.
Workers' compensation coverage protects you in most cases if your employees sue you for negligence. For example, if you fail to furnish adequate safety equipment, your employee is usually barred from suing you if you have workers' compensation insurance. If you have coverage, employees waive their right to sue their employers for negligence unless there is extraordinary neglect. Therefore, many insurance experts refer to workers' compensation as the "Grand Bargain."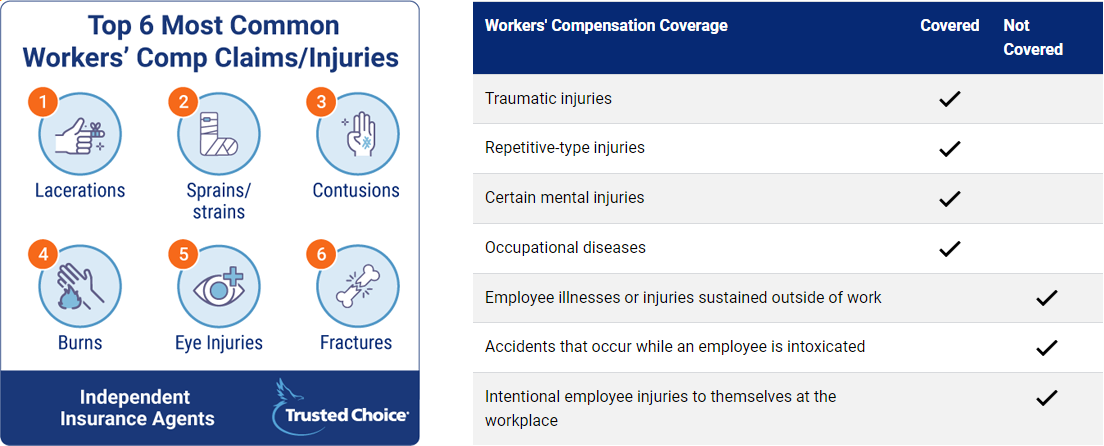 How does workers' compensation insurance work?
Workers' compensation insurance is a liability policy that offers your employees state-mandated benefits. If your employee becomes ill from an industrial exposure or suffers an on-the-job injury, the industrial laws of your state, which are referred to in your policy, outline the benefits the adjuster pays your employee. Your general liability policy, which could protect you if a customer falls in your location, for example, excludes coverage for employee injuries.
Here are important coverages your workers' compensation policy provides:
Medical treatment after an injury or illness, including emergency room treatment
Ongoing medical care post-injury or illness
Lost wages, usually about two-thirds of your employee's average weekly or monthly wage, capped at state-mandated limits
Funeral expenses
Certain survivor benefits, including support for the surviving spouse or children
Payment for permanent disability or physical impairment
Payment for disfigurement when applicable
Without workers' compensation coverage, you could be responsible for these payments.
Workers' compensation insurance in New Jersey
According to Bross & Frankel, all employers in the state of New Jersey must carry workers' compensation coverage, except for those who are covered by federal programs. Alternatively, employers can self-insure, subject to approval by the New Jersey Commissioner of the Department of Banking and Insurance. Self-insurance means that in the event of a claim, the employer pays benefits out of its own pocket, instead of the claim being paid by insurance. As a general rule, only employees are covered under New Jersey's Workers' Compensation Law. Independent contractors cannot file a workers' comp claim. In New Jersey, there are 5 types of benefits that you may receive for your work-related injury or illness. These include:
Workers' compensation insurance in Pennsylvania
In the Commonwealth of Pennsylvania, you can get workers' comp insurance through different insurance carriers. In addition to covering medical care for work-related injuries or illnesses, Pennsylvania's Department of Labor and Industry states that workers' comp coverage must help replace some of your employees' income if they miss work to recover. In Pennsylvania, some employers are exempt from providing workers' compensation insurance. These workers' comp exemptions include:
People who already have coverage under other workers' compensation acts, including railroad workers, longshoremen and federal employees.
Agricultural employees who work fewer than 30 days or earn less than $1,200 in a calendar year from a sole employer.
Employees who are exempt due to religious beliefs or their executive status.
Workers' compensation insurance in New York
Businesses in New York State must have workers' compensation coverage for all employees. The rule includes part-time employees and family members employed by the company. The workers' compensation insurance policy can come from a private insurance carrier, the New York State Insurance Fund, or self-insurance. Businesses must show proof of the policy when getting business permits. Businesses may be exempt in very narrow circumstances. Self-insurance is rare.
Do 1099 employees need workers compensation?
One mistake many business owners make is calling their employees independent contractors when in fact a labor law judge may decide they are employees. If that happens, you can be caught without the proper coverage if you don't have a workers' compensation policy. Additionally, as a sole proprietor, you may believe you are ineligible for workers' compensation coverage. In fact, many insurers welcome sole proprietors in their workers' compensation programs.
Let's say you're a small artisan contractor who designs, builds and installs custom cabinets. You lease a workspace, and your family depends solely upon your income. What would happen if a cabinet fell, and you suffered a severe back injury? How would you put food on the table, pay your bills or provide for your family?
Properly crafted workers' compensation coverage can pay your medical bills, lost wages and any permanent disability associated with your mishap.
How much does workers' compensation coverage cost?
Insurers rate workers' compensation coverage using class codes assigned to the type of work performed by your employees. Those class codes, your workers' compensation claims history and your payroll costs determine your rate.
Let's suppose you run a busy fast-food operation with five employees. Your business has a general code for a retail establishment, then a class code for all your employees. Your state's department of insurance assigns a rate based on the hazard involved for that worker. If that rate is $1.25, your insurer would take all the payroll, including overtime and bonuses, paid to those employees, divide it by 100 and multiply it by that $1.25 rate.
If you pay one worker $23,000 per year, the insurer will calculate your premium as follows.
$23,000/100 = $230 X $1.25 = $287.50 premium for that employee.
Your state sets rates, often aided by the National Council on Compensation Insurance (NCCI), an advisory organization that sets rates for 35 U.S. states. Non-NCCI states often rely on NCCI for their rates, then adjust them up or down based on several factors. Here are the estimated employer rates for workers' compensation by state:
---
At Garden State Central Insurance, we're trained and ready to help you determine if you need workers' compensation coverage in NJ, PA, and NY. After assessing your business operations, we'll recommend a commercial insurance policy for your company's needs. Get in touch with us today!